Engine

---

Alternator

---


50 Hz 3- Phase Power Factor Cos ɸ = 0.8


Perkins 4012-46TAG2A
Stamford PI 734C
Rating
Prime Power (PRP)
Standby Power (LTP)
Voltage
kVA
kWe
kVA
kWe
Amps
415/240
1500
1200
1650
1320
2295
400/230
1500
1200
1650
1320
2382
380/220
1500
1200
1615
1292
2453
Definition of Ratings & Reference Conditions :
---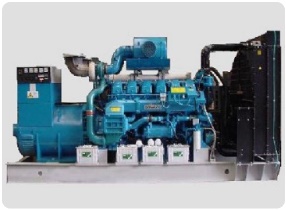 Prime Power (PRP) is the nominal output continuously available, where the average load (variable) does not exceed 80% of the prime power rating. 10% overload is available for a maximum of 1 hour in 12 hours of operation.

Standby Power (LTP) the maximum output available (at variable load), for up to 500 hours per year. The average load (variable) must not exceed 80% of the standby power rating. No overload is available. The genset must not operate, at standby rating, in parallel with the public utility under any circumstances. Standard Reference Conditions: air inlet temperature 25°C (77°F), barometric pressure 100kPa [110m(361ft) altitude] and 30% relative humidity.

Notes: The above ratings may be subject to derate at different operating conditions. Please see the Derate Guidelines on the Agen wesite. All power ratings and reference conditions in accordance with ISO 8528-1 and ISO 3046-1.
Key Features :
---
CE certificate

Tropical radiator

Single bearing Stamford alternator with PMG

Fully guarded engine-driven fan

Radiator matrix guard

Fully welded steel baseframe with lifting / jacking points

8 hour capacity base fuel tank

Heavy duty rubber anti-vibration mountings fitted inboard

Main line circuit breaker (optional)

Industrial exhaust silencer supplied loose

Exhaust flexible section

Jacket water heater

Constant potential battery charger

24V starter batteries and connecting cables

Auto Start control system with digital instrumentation

RS232/RS485

Low oil pressure protection

High engine temperature protection

Overspeed protection

Low coolant level protection

Factory Test Certificate based on ISO8528

Operation & Maintenance Manual


Overal Dimension & Weights - Open Set
---
Length (L) = 4990mm
Width (W) = 2190mm
Height (H) = 2510mm

Dry Weight = 10000kg
Wet Weight = 10290kg




Typical Open Generator Sound Pressure Level at 1m, Free Field (dB)
---
| | | | | | |
| --- | --- | --- | --- | --- | --- |
| Overall dBA | 250 Hz | 500 Hz | 1000 Hz | 2000 Hz | 4000 Hz |
| 115 | 107 | 107 | 108 | 108 | 107 |
All specifications and design are subject to change without notice
Technical Specifications
---
Engine General Data
Alternator Technical Data

Manufacturer
: Perkins
Country of manufacture
: United Kingdom
Model
: 4012-46TAG2A
Number of cyclinders
: 12
Clylinder arrangement
: 60 ℃ Vee form
Cycle
: 4 stroke
Induction system
: Turbocharged air to air aftercooled
Combustion system
: Direct injection
Cooling system
: Water cooled
Engine speed
: 1500 rpm
Gross Engine Power
: 1459 kWm
Bore and stroke
: 160mm x 190mm
Displacement
: 45.842 litres
Compression ratio
: 13.6:1
Total lubrication capacity
: 177 litres
Total coolant capacity
: 210 litres



Fuel Consumption
Engine Speed
1500 rev/min
1800 rev/min
g/kWh
l/hr
g/kWh
l/hr
Standby
201
335
212
251
Prime power
200
301
213
319
Continuous baseload
200
242
214
352
75% of prime power
201
237
174
195
50% of prime power
203
162
229
171
25% of prime power

Manufacturer
: Stamford
Country of manufacture
: United Kingdom
Model
: PI 734C
Number of bearing
: 1
Insulation class
: H
Winding pitch
: 2/3
Winding leads
: 6
Protection
: IP23
Excitation system
: Seperately excited by P.M.G. *
AVR model
: MX341
Maximum overspeed
: 2250 rev/min
Voltage regulation
: ± 1.0 %
External voltage adjustment
: ± 10 %
Telephone interference
: THF<2%

The STAMFORD PI range of synchronous ac generators are brushless with a rotating field. They are seperately excited by the STAMFORD Permanent Magnet Generator (PMG). This is a shaft mounted, high frequency, pilot exciter which provides a constant supply of clean power via the Automatic Voltage Regulator (AVR) to the main exciter. The main exciter output is fed to the main rotor, through a full wave bridge rectifier, protected by surge suppression. Underspeed protection (UFRO) is also provided on the AVR. The UFRO will reduce the generator output voltage proportional to the speed of the generator below a pre-settable level.



Control Module Specification

---

Auto Mains Failure Control Module DSE7220

Automatic load transfer
USB connectivity
132 x 64 pixcel LCD display
Event logging (30) showing date and time
Fully configurable via PC software
LED and LCD alarm indication
Engine execise mode
kWh monitoring
Configurable timers and alarms
Backed up real time clock
Multiple date and time maintenance scheduler
Robust module enclosure
Front panel editor
Five key menu navigation
Nine configurable inputs
Six configurable outputs
Power save mode


Instrumentation
Generator Volts L1-N, L2-N, L3-N
Generator Volts L1-L2, L2-L3, L3-L1
Generator Amps L1,L2,L3
Generator Frequency Hz
Engine speed RPM
Engine Oil Pressure
Fuel Level %
Engine Temperature
Battery Volts
Engine Hours Run
Generator kVA
Generator kW
Generator Power Factor
Mains Volts L1-N, L2-N, L3-N
Mains Volts L1-L2, L2-L3, L3-L1
Mains Frequency Hz
Generator Power Factor
Charge Alternator Voltage
Generator kVAr
Generator kWh, kVAh, kVArh
Number of engine start